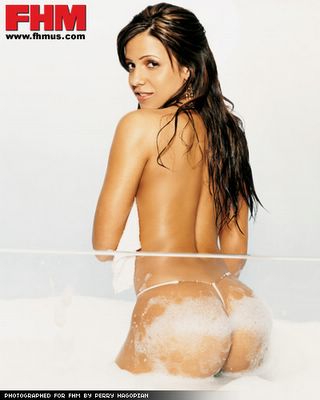 So, Vida Guerra (above), the chick with the sweet ass (probably too big for
PositiveMode's
taste), apparently took (or had someone else take) dirty pictures of herself with her cellphone. Said pictures were then leaked onto the internet as such things are want to do. As a journalist (we bloggers are journalists, right?), I felt it was my duty to check out the authenticity of said pictures. Upon close inspection, said photos are definitely her, and definitely nekked. Normally, NegativeMode eschews sexually suggestive/explicit postings (not counting the sexy photos of First Officer Dunn and Your's Truly), but this link is a must have for my readers, especially DJ Skuggs (he's a closet pervert) and BrownBear (he likes
apple-bottoms
).
NegativeMode will not (at this point) post any NSW ("not safe for work") pictures, but has no problem providing you with the link to such pictures as NegativeMode feels that it is in my reader's best interst to look at pictures of hot, nude quasi-celebrities. Without further adoo ...
hot nekked pictures of Vida from her cell phone
(the link itself is
most definately NSFW!
).